Tune in to a case so vile and layered it took close to two decades to uncover. The suspect of Natalee Holloway's homicide, who was on standstill-owning to the lack of evidence against him, has pleaded guilty on 18th October, per People.
Natalee Holloway, an 18-year-old from Mountain Brook, Alabama, went missing on May 30, 2005, and up until now, her body was nowhere to be found, and her case was dangling by a thread due to the lack of evidence against the prime suspect who was last seen with her on that fated day in Aruba, where she went for her 4-day graduation trip, never to return back to America.
After 18 years of interrogation, mindless search campaigns, and incessant probes, the prime suspect, Joran van der Sloot, the Dutch national, pleaded guilty on account of Natalee's murder via People. Pleading guilty to extortion and wire fraud charges, a lawyer for Natalee's mother, Beth, told People about the incident. However, per People reports, Sloot cannot be prosecuted locally given Aruba's strict 12-year rule.
People elucidates that Beth Holloway revealed the details of Sloot's plead. In her victim's impact report, she said that van der Sloot told the authorities that the night of her disappearance, Natalee had resisted sexual advances from Sloot, which got him enraged and pushed him to commit the murder. People report via Beth's attorney, John Q. Kelly, who revealed that an enraged van der Sloot smashed Natalee's head in with a cinder block and threw her body in the water. Outside of the courtroom, Beth was reported saying, "This confession means we have finally reached the end of this never ending nightmare."
She added to her victim's impact report via People, "You have finally admitted that, in fact, you murdered her," Beth reportedly said in her victim impact statement after hearing van der Sloot's confession in October 2023. "You terminated her dreams, her potential, her possibilities when you bludgeoned her to death in 2005," Beth added, saying that if her daughter had lived, "I have no doubt she would have made all her dreams come true. She really would have." '
Since the day of her disappearance, Holloways's parents, Beth and David (divorced in 1993), have never stopped their pursuit in seeking justice for their daughter. Their decade of tireless striving, faith, and undisputed engagement of the public into delivering justice to their deceased daughter, whose body has been missing since 2005, all led to 18th October, when Sloot finally pleaded guilty.
Their earlier suspicions over the years over Sloot have resulted in him being arrested twice in link to Natalee's disappearance but never materialized due to lack of evidence. Van der Sloot is currently in prison for the 2010 murder of 21-year-old Stephany Flores Ramírez.
If the case seems distorted and mangled, let us break it down for you. Here is everything you need to know on the murder of Natalee Holloway that caught the media's attention since 2005 and shook the nation, molding the sociopath Sloot into believing "murder made him famous."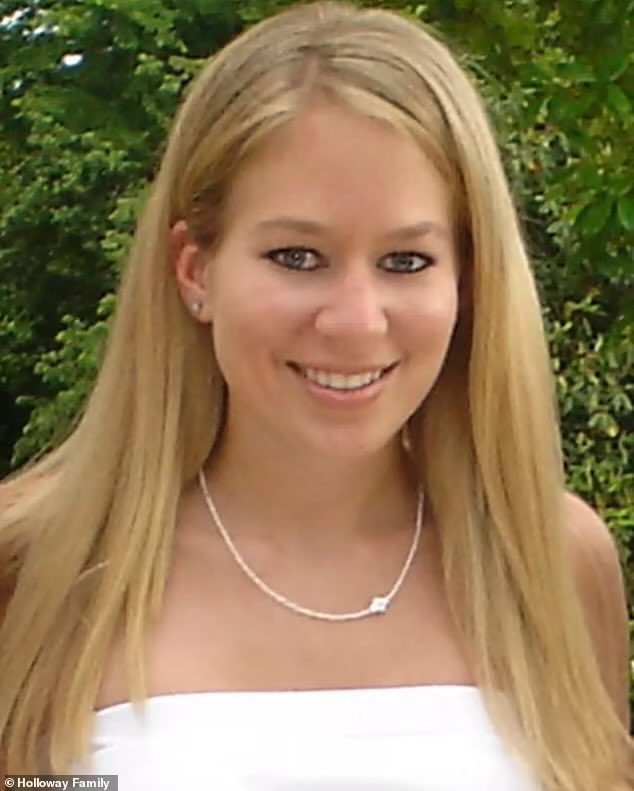 Natalee's Pre-Medical School Dreams At University Of Alabama
Oct. 21, 1986, Tenessee, Natalee was welcomed into the world by her loving parents, Dave and Beth Holloway. A younger brother, Matthew, followed in 1988. Thereafter, in 1993, the rosy couple headed for a divorce when Natalee was only 7 years old, followed by the siblings being practically raised by their mother. People reported, in 2000, when Beth had married George "Jug" Twitty, the family relocated to Mountain Brook, Alabama, a suburb of Birmingham.
As per People, NBC News highlighted Natalee's school life as she was an ambitious student with straight A's in Mountain Brook High School. Per ABC News obtained via People, "Natalee's high school accomplishments led to her receiving a full scholarship to the University of Alabama. She had plans to study pre-med and also hoped to rush a sorority."
Natalee's Disappearance On 30th May, 2005
Natalee was ready to embark on a four-day class graduation trip to Aruba with 103 students from Mountain Brook High School in May 2005. While her father, David, shared reservations about her going, he eventually allowed it and even paid for it, not realizing that it was the last time he would see his beloved daughter. A similar incident reportedly took place with her mother, Beth, where she attempted to warn Natalee about the drinking age in Aruba and strangers who would spike drinks. She waved it off.
Beth told NBC News and People reports, "The Mountain Brook students had been there the previous two years. Even my stepson — the year 2003," continuing, "And there were going to be over 150-plus classmates. So, we felt like, you know, there's safety in numbers."
However, People reported that on the day of return, May 30th, 2005, Natalee was supposed to board the flight with her classmates to come back home. Beth received a phone call the very day that said Natalee was missing. It was "the call that all mothers and fathers dread," she recalled. Beth told NBC News, "I knew instantly when I received that call that, just from Natalee's history and character and just her record, I knew instantly that she'd either been kidnapped or murdered," continuing, "There was no hesitation. Absolutely none."
With a sunken heart, she embarked on what would prove to be an 18-year-long fight to deliver justice to her daughter and hopefully bring her body back, wherever it was. Unfortunately, her body was never found.
Carlos 'n Charlie's- Natalee's Final Spot Before Her Disappearance 
Per People, Natalee's friend Jessica Caiola said in The Disappearance of Natalee Holloway, the six-part Oxygen series that aired in 2017, "I remember seeing Natalee in a white car driving away," adding, "The window was down so we could see it was her in the back of the car," continuing, "My impression was, 'Oh, great, she found a ride back to the hotel.' "
She never reached her hotel.
On the night of her disappearance, dated 29th May 2005, per multiple reports and eye-witnesses, Natalee and her friends spent their last day at Carlos 'n Charlie's, a popular bar and restaurant in Oranjestad, Aruba. After the bar closed, Natalee was last seen at around 1:30 a.m. leaving in a white car with three males, who were later identified as Joran van der Sloot, then 17, and brothers Deepak Kalpoe, 21, and Satish Kalpoe, 19. (Per People Reports)
Van der Sloot's presence around Natalee on her final day and throughout the week was witnessed by her friend Caiola and several others, who reported that he had been hanging around their group for the entire week and was at the casino the night of her disappearance.
Per People, Kimberly Boekhout, a regular in van der Sloot's social circles, said, "Van der Sloot was a Dutch national attending the International School of Aruba. Like Natalee, he was an honor roll student — but he also "liked to party," continuing, "But he only wanted to party with American tourists. He liked girls with blonde hair."
Multiple Suspects Arrested, Then Released, Due To Lack Of Evidence
According to The New York Times, five men were considered suspects related to the case of Natalee, although CNN reported that they had all been released from jail by September 2005 — through Joran van der Sloot and the Kalpoes were still considered "under investigation." Van der Sloot and the Kalpoe brothers were arrested on June 9, 2005.
People report the first arrests that came on June 5th, 2005, were the two former hotel security guards, Antonius "Mickey" John and Abraham Jones. They were arrested in lieu of descriptions provided by the Kalpoe brothers. They told police that they had dropped Natalee off at her hotel around 2 a.m. and saw a man in a security guard uniform approach her, their lawyer told NBC News. "I was trying to clear my name, but they wouldn't listen because of what those boys said about us," said John, clueless about the charges being levied against him. Per People, John and Jones were eventually released on June 13, 2005.
After the arrests of Sloot and the Kalpoe brothers, a fourth man, 26-year-old party boat DJ Steve Gregory Croes, was arrested. Thereafter, van der Sloot's father, Paulus, a lawyer training to be a judge, was also arrested in connection with Natalee's disappearance, per People reports.
2007- Van Der Sloot And Kalpoe Brothers Arrested Again 
Per People reports, Van Der Sloot and Kalpoe Brothers faced arrest in 2007 as new evidence of Natalee's murder crept up. Per CNN, the prosecutors did not reveal what the new evidence was that led to the arrests. According to Aruban prosecutors, the suspects were charged with "involvement in the voluntary manslaughter of Natalee Holloway or causing serious bodily harm to Natalee Holloway, resulting in her death."
According to CNN, the three were released from custody in December 2007. The Aruban Public Prosecutor's Office said in a statement, "The period of custody did not bring the final breakthrough in this investigation." Per reports, the statement also concluded that there was insufficient evidence to show that "a crime of violence against Natalee Holloway had been committed nor that her death has been caused by involuntary actions by either of the suspects."
Van Der Sloot Allegedly Attempted To Extort The Holloways For $250,000 In 2010
Joran van der Sloot confesses to the brutal 2005 killing of Natalee Holloway pic.twitter.com/GxLTccyXDk

— confused (@coinssglobal) October 19, 2023
Following the arrest, People reported that Van der Sloot made multiple false confessions about Natalee's disappearance to keep the story alive and keep him relevant, along with constantly asking for money in return for information on Natalee's whereabouts. Of course, none of them were true.
In March 2010, Sloot contacted the Holloway family in order to reveal some details about Natalee's death and where her body was hidden in exchange for a price. According to a federal affidavit released in June 2010, Sloot emailed Beth's attorney, John Q. Kelly, where he wanted to provide information about Natalee over mail in exchange for $250,000.
People report the incident that took place thereafter in the following words, 'Kelly involved the FBI before meeting up with van der Sloot in Aruba, where he would provide a down payment of $25,000. The FBI coordinated with Aruban law enforcement to record the exchange for prosecution. In May 2010, Kelly met with van der Sloot and gave him $10,000 cash; Beth wired another $15,000 to van der Sloot's bank account in the Netherlands.
In exchange for the money, he said that during the night of her murder, during a heated argument, Sloot threw Natalee's body on the ground, and due to the impact on her head with a rock, she succumbed to her injury. He continued saying that thereafter, he steered her body to a house where he "disposed of Natalee's body by burying her remains in the gravel under the foundation of the single-story home." People reported that this, again, was a false alarm, ' A review of building permits revealed that the house did not exist at the time of Natalee's disappearance. Van der Sloot emailed Kelly on May 17, 2010, and admitted he "lied about the location." Sloot had tricked the FBI as well as the Holloways again.
His reason? He said he did it to seek revenge on Natalee's family, who made his life miserable over the five years. In his own words, he told Telegraaf in September 2010, "I wanted to get back at Natalee's family," adding, "Her parents have been making my life tough for five years."
With no hard-bound evidence against him, the case dwindled. But the evil within Sloot licked the surface again in a few years.
Van Der Sloot Found Guilty Of Murdering 21-Year-Old Stephany Flores Ramírez
According to People's reports, incidentally, exactly five years ahead of the night of Natalee's disappearance, a 21-year-old woman named Stephany Flores Ramírez was reported missing in Peru. According to Peruvian police, Flores — the daughter of racecar driver and businessman Ricardo Flores — was last seen with van der Sloot.
June 2nd followed the discovery of her body in a Lima hotel room bludgeoned to death, with the room registered under the name of Van Der Sloot. He had already anticipated his arrest and had boarded a flight to Chile to escape the consequences, but sadly, he couldn't. According to People, authorities caught him on June 3rd. Thereafter, ABC News via People reported that he confessed to the Peruvian police that he had choked, beaten, and smothered Flores with his bloody T-shirt after she discovered his link to the Natalee Holloway case.
Per People reports, He was sentenced to 28 years in prison in January 2012 after pleading guilty to the murder, while his attorney argued that van der Sloot was suffering from "extreme psychological trauma" from being "persecuted" for Natalee's disappearance. Attorney John Q. Kelly told PEOPLE after his sentencing, "He's tortured, tormented and taunted Beth Holloway for 6 ½ years and toyed with her emotions nonstop about what fate fell to her daughter with absolutely no remorse, and now seeks to use that as a basis to mitigate his prison time for brutally murdering another young woman," commenting on his "insanity" plead.
June 2023- Sloot Was Extradicted To the U.S. On Extortion And Fraud Charges
Joran van der Sloot admitted to killing Alabama teen Natalee Holloway, judge says. He had long maintained his innocence. https://t.co/goEQMx512W

— CNN (@CNN) October 18, 2023
In January 2012, according to People reports, an Alabama Judge legally declared Natalee dead per the request of her father, David, who wrote in a petition to the Judge, "It is my firm, however painful, belief that my daughter Natalee is deceased, and not a runaway."
However, Beth's attorney opposed the request as he said, "Beth's position is that if there's that one sliver of hope that she can carry in her heart that Natalee might be alive somewhere, she wants to do that," adding, "Her life's commitment now is working with other families with missing family members. She would lose her credibility with them if she were to give up hope for her own daughter."
Sloot's alleged extortion of the Holloway family for a $250,000 charge was granted by the Peru authorities, and he was extradited to the U.S. on June 2023 to face federal charges. He went from Peru, where he is currently serving his sentence for the murder of Ramirez, to Alabama for the case. Peru's ambassador to the United States, Gustavo Meza-Cuadra, said in a statement obtained by The New York Times, "We hope that this action will enable a process that will help to bring peace to Mrs. Holloway and to her family, who are grieving in the same way that the Flores family in Peru is grieving for the loss of their daughter, Stephany."
Beth said in her statement acquired via People, "It has been a very long and painful journey, but the persistence of many is going to pay off. Together, we are finally getting justice for Natalee."
People reports, 'On June 9, 2023, van der Sloot entered a plea of not guilty to the extortion and wire fraud charges, according to the Associated Press. On Oct. 18, however, van der Sloot pleaded guilty to the charges in a federal courtroom in Birmingham. He was sentenced to 20 years for the crimes.'
This leads us to October 18th, when Sloot pleaded guilty to the murder of Natalee. Natalee's body remains undiscoverable ever since it was tossed out to the sea, so her grieving parents never got a chance to say goodbye.