BLACKPINK member Jennie rules the advertisement world like no other, and multiple instances prove it! Fans and media often covet her as the 'brand ambassador' as she draws jaw-dropping attention within a short period. Recently, the K-pop idol garnered attention for having received multiple bouquets from various brands to celebrate the start of the group's BORN PINK tour. Numerous luxury brands sent beautiful flower bouquets to Jennie in celebration of BLACKPINK's official launch of the lengthy world tour that kickstarted in Seoul.
The flower bouquets
Jennie expressed her gratitude for the beautiful surprises by taking to Instagram and sharing the pictures of the bouquets she received and expressed her gratitude. Chanel, HERA, Porsche, Tamburins, and Calvin Klein are some of the brands that sent surprises to Jennie with congratulatory notes.
Check out Jennie's special Instagram post below.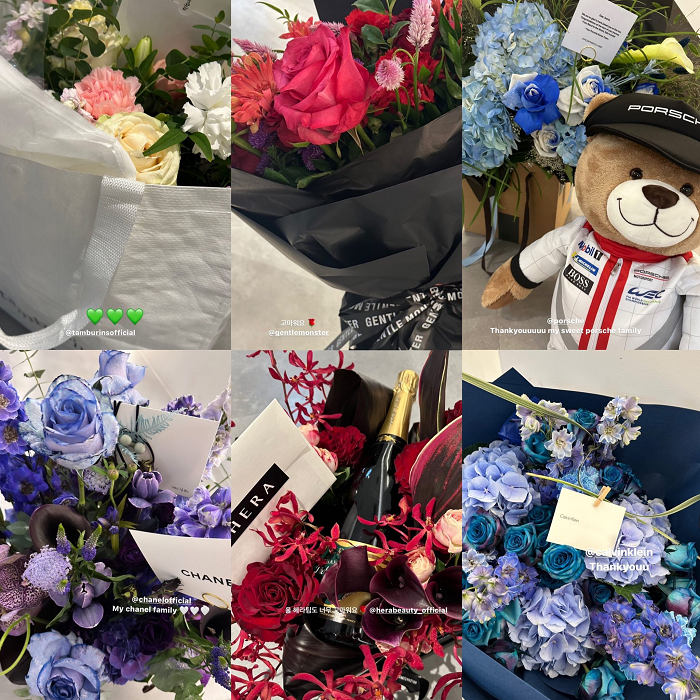 Jennie's customized car
Recently, Jennie made headlines after having left her fans awestruck with her customized and swanky Porsche sports car. It seems like the K-pop girl group member has hit yet another milestone with her one-of-a-kind collaboration with Porsche, one of the most luxurious car manufacturers. She collaborated with Porsche Korea to customize her Taycan 4S Cross Turismo, a sight to behold! The first evident customization that we get to see is the personal logo of the diva that is added to the outer body of the car. There is no denying that the logo makes a statement here and makes Jennie's presence felt! She has not only branded the car in her name but also changed its custom color to give it a contrasting look.
The Idol
BLACKPINK member Jennie is all set to make her acting debut in The Idol, which has left all of her fans excited. For the unversed, the series is helmed by The Weeknd, who also features in it, including Lily-Rose Depp. Talking about Jennie, she is going to play a crucial character in the series. Talking about The Idol, the HBO series, is about a pop singer named Jocelyn who romances an enigmatic cult leader. Here, the latter's role is played by The Weeknd, and the pop singer Jocelyn's role is played by Lily-Rose Depp.
Apart from the trio, the other members of the star cast include Moses Sumney, Susanna Son, Troye Sivan, Jane Adams, Hank Azaria, Eli Roth, and more.
The Idol's new teaser
The new teaser of The Idol begins on a late night when Lily-Rose and Jennie are out partying. It is when we hear The Weeknd commenting, "Los Angeles is where all the monsters of the world come to gather. Trust no one." The next thing that we see is Jennie heading for a meeting as she gets occupied with a stack of documents in her hands. The Idol is reportedly said to air in 2023.