BLACKPINK's Jennie is set to showcase a new side of her charm as a guest on the variety show "Apartment 404." Fans went into a frenzy as photos from the filming, which took place on October 26, went viral, teasing a retro-themed episode featuring the idol along with popular hosts Yoo Jae Suk, Yang Se Chan, Cha Tae Hyun, Oh Na Ra, and Lee Jung Ha.
Sweet Gesture on Ppeppero Day
On November 11, also known as Ppeppero Day in South Korea, Jennie surprised the staff and crew of "Apartment 404" with a heartwarming gesture. The BLACKPINK member gifted Ppeppero snacks, a popular treat in Korea, along with meaningful notes to express her gratitude. The sweet surprise earned Jennie appreciation, and producer Jung Chul Min shared the thoughtful gesture on Instagram, thanking her for the gifts.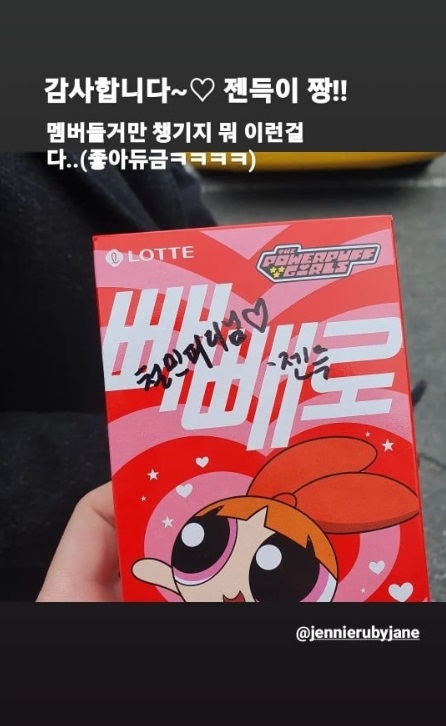 Excitement Builds for "Apartment 404"
Fans eagerly anticipate the upcoming episode of "Apartment 404" as the photos from the filming showcased the cast in retro outfits surrounded by vintage cars. In one still, Jennie can be seen making a gesture with her hands, capturing the attention of the cast. The show, led by the popular host Yoo Jae Suk, features a star-studded lineup, including BLACKPINK's Jennie, adding to the excitement.
Jennie's Recent Hit Single "You & Me"
Jennie's recent activities include the release of her hit single, "You & Me," on October 6. The song has been dominating global charts, including Billboard, Spotify, YouTube, iTunes, and MelOn. Fans have shown immense love for the track, making it a success even before its official release. Alongside the single, a performance video and a jazz version of the song were also unveiled, showcasing the versatility of Jennie's talent.
Jennie's participation in "Apartment 404" not only delights fans with her variety of show appearances but also adds another layer to her multifaceted presence in the entertainment industry. As anticipation grows, viewers look forward to witnessing Jennie's charm unfold in the upcoming episode.