BLACKPINK's Lisa made a remarkable debut at the legendary Crazy Horse Paris cabaret. Her first day was a resounding success, with fans eagerly anticipating every detail of her performance. Lisa's undeniable star power and captivating stage presence were on full display.
The diva received unwavering support from her fellow BLACKPINK members, Rosé and Jisoo, who attended her cabaret debut. Their presence at the event showcased the strong bond among the group members. Additionally, Spanish singer Rosalía, a close friend of Lisa, also attended the show.
Rosalía's Instagram Support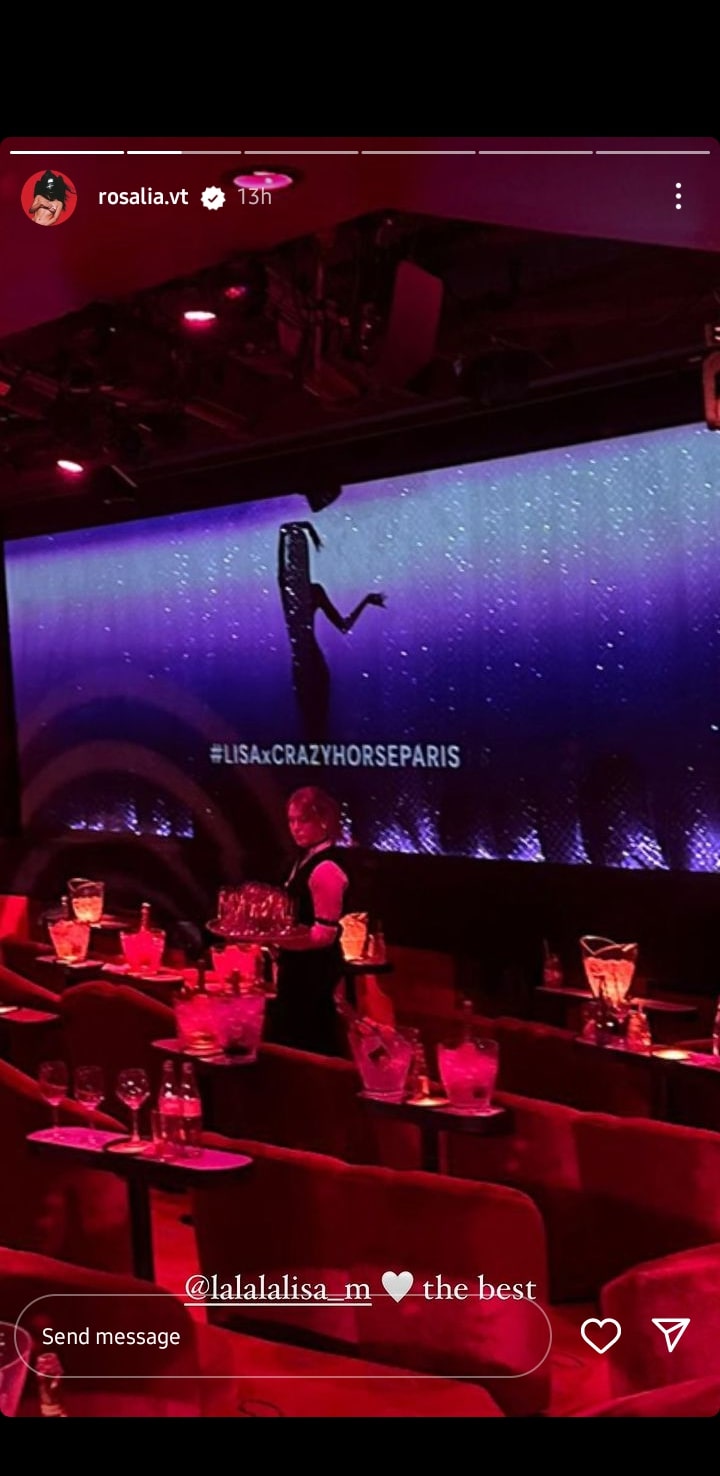 Rosalía, who had earlier been seen at a fashion show alongside Kylie Jenner, made her way to Lisa's performance during the second half. The venue, Crazy Horse Paris, had strict no-photography policies, making any glimpse of the event a precious moment. Rosalía, unable to capture visuals, took to her Instagram to show her support for Lisa. She shared a story, tagging Lisa and captioning it with "The best."
Rosalía continued to express her excitement by sharing more moments on her Instagram. She posted a picture with Lisa, Rosé, and Jisoo, further solidifying their friendship. BLACKPINK's Lisa, appreciating the gesture, reciprocated by sharing the post on her own Instagram story.
Can't wait for this to finally happen! D-1 See you soon💋 pic.twitter.com/dOjeKFiCaH

— BLACKPINK LISA 리사 (@lalaIalisaa_m) September 29, 2023
Anticipation for Day Two
After a successful first day, Lisa couldn't contain her excitement for the second day of her cabaret performance. She had previously shared glimpses of her enthusiasm on Instagram, radiating happiness and cheerfulness. Lisa's performance was a hot ticket, with tickets selling out rapidly, demonstrating her immense influence as an artist. In anticipation of day two, Lisa posted a story on her Instagram, asking her followers, "Ready for Day 2?"