BLACKPINK's Rosé recently got into trouble (almost!) for using the controversial term titled 'llbe.' On January 3, 2022, the K-pop idol took to Instagram to wish fellow member Jisoo on the latter's special birthday. Here is what she wrote, "Our eldest cutie pie Jisoonie. I really really wish you a happy birthday. I hope that you will have the happiest day in the world. I love you." For the unversed, Rosé also added a couple of hashtags for the diva's birthday. She had also intended to write the phrase 'neomu' but replaced it with 'nohhmu' which is a traditional Korean phonetic spelling.
What went wrong?
The similar-sounding words confused BLACKPINK member Rosé and almost got her into trouble. It is because the term "nohhmu nohhmu" is allegedly an 'Ilbe' term. This particular phrase is reported used by extreme conservatives to reference former South Korean president Noh Moo Hyun by showing him in a negative light.
Rose's response
It seemed like the BLACKPINK member sensed her story on Instagram stirred some controversy and edited her hashtag before uploading Jisoo's birthday story on the same platform.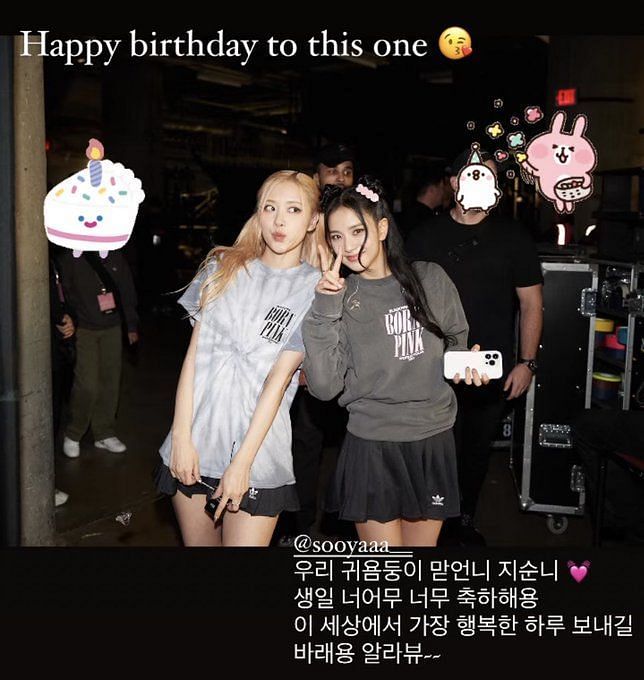 Earlier News
The BLACKPINK members are getting their presence felt in musical worlds and other significant events across countries ever since their recent grand return. August 28, 2022, marked to be a historic day for the BLACKPINK members as they made their debut on the MTV VMAs. All the members of the girl group arrived at the event in style and mesmerized everyone with their performance and chic looks. Last year, one of the members, Rosé, was spotted at the Paris Fashion Week, and we have got fresh updates on the same! Later, she mesmerized everyone with her appearance at the LACMA gala.
Rosé stuck to her basics at the LACMA gala and wore a long black dress. She also wore something akin to a hood on her head and styled her hair braided. The BLACKPINK member completed the ensemble with a sleek clutch and a golden bracelet. There is no denying that fans all over the world were swooning over her looks.