Fans of Seventeen, known as Carats, are expressing their anger and frustration over the exploitative ticket sales method for the group's upcoming Seoul concert, 'Follow to Seoul'. The high ticket prices and the introduction of a lottery system for fan club members have sparked controversy and disappointment within the fandom. Let's delve into the details of this contentious ticketing process and the strong reactions from fans.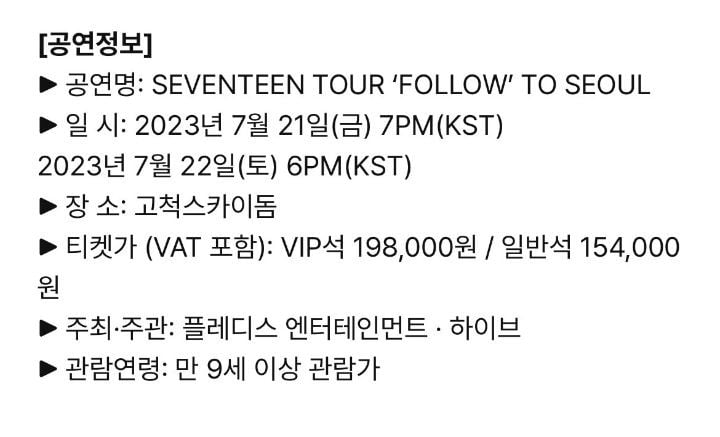 High Prices and Unfavorable Seat Distribution
The first issue that caused uproar was the exorbitant prices of the concert tickets, ranging from 198,000 KRW to 154,000 KRW (~$110 to $150 USD). Of particular concern were the high prices for seats located on the third and fourth floors, which greatly angered fans and observers. Many fans were shocked by the idea of paying a significant amount without even knowing their exact seat location.
Official Fan Club Pre-Sale Lottery
Pledis Entertainment, Seventeen's agency, further intensified the controversy by implementing an official fan club pre-sale lottery. In order to participate in the pre-sale, all official fan club members had to enter a separate lottery. Only those randomly chosen by the lottery were given the opportunity to purchase tickets during the fan club pre-sale. However, the frustration deepened as those who were selected had to make the payment for their tickets without knowing the assigned seat. This lack of seat confirmation before payment, coupled with the potential cancellation fees, left fans feeling dissatisfied and disheartened.
General Public Sale and Comparison to Japanese Ticketing System
View this post on Instagram

The announcement of a general public sale added to the fans' concerns. While it was suggested that some seats would be reserved for the general public sale, many fans hesitated to rely on it, fearing limited options compared to the fan club pre-sale. The introduction of a lottery system in ticket sales drew attention, with fans noting its similarity to practices in the Japanese music industry. Some fans expressed disappointment, viewing this as the influence of HYBE Labels (formerly Big Hit Entertainment) in adopting such a system.
Fans' Strong Reactions and Criticism
Carats voiced their outrage with comments reflecting their frustration and disappointment towards the ticketing method. Many fans questioned the logic of paying for a seat without knowing its location, while others criticized HYBE and Pledis Entertainment for what they perceived as greed and a lack of consideration for the fans' experience. There were concerns about the potential impact on concert attendance and the tarnishing of Seventeen's reputation.
Conclusion
The exploitative ticket sales method for Seventeen's upcoming Seoul concert has ignited a wave of outrage among fans. The high ticket prices, lack of seat confirmation before payment, and the introduction of a lottery system for fan club members have all contributed to the fans' discontent and disillusionment. It remains to be seen how the agencies involved will address these concerns and work towards restoring fan confidence in future concert events.