Hailey Bieber has been in the spotlight over the years due to her pregnancy rumors. While the supermodel has consistently denied it, this time she decided to dismiss all the rumors by disclosing that she is suffering from a health condition. Not only that but Hailey was also pretty vocal about her health challenges when she decided to share an Instagram Story on November 28, 2022. The wife of Justin Bieber was also seen lifting up her sweatshirt and clarifying the fact that she is not pregnant.
Hailey Bieber's big revelation
Hailey Bieber shared a mirror photo of herself while displaying her torso and said, "I have a cyst on my ovary the size of an apple," she added, "I don't have endometriosis or PCOS [Polycystic ovary syndrome] but I have gotten an ovarian cyst a few times and it's never fun."
She further said, "It's painful and achey and makes me feel nauseous and bloated and cramps and emotional," she added. "Anyways…I'm sure a lot of you can overly relate and understand. We got this."
Check out the supermodel's Instagram story below.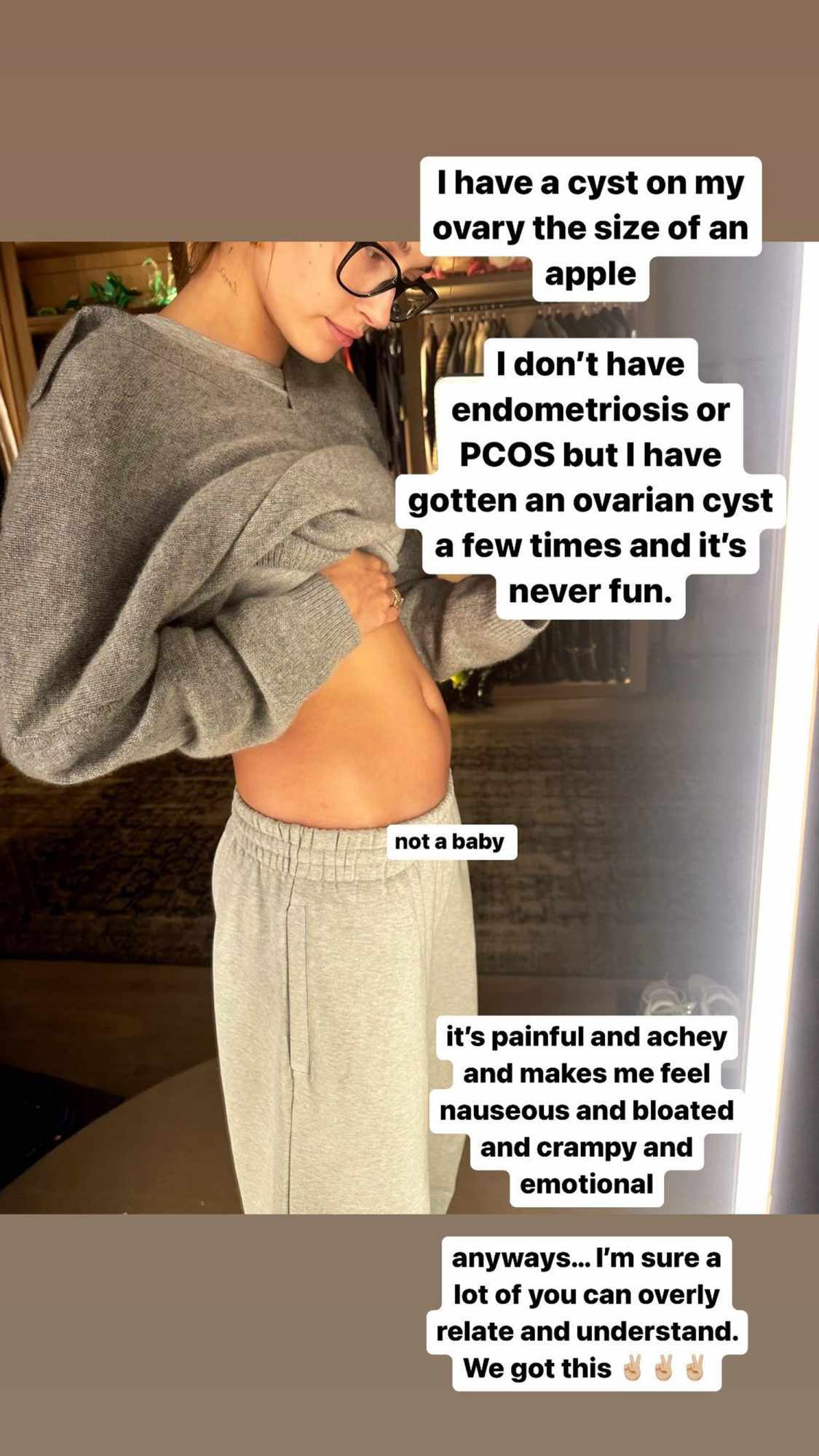 Justin Bieber and Hailey Bieber
Justin Bieber and Hailey Bieber set major relationship goals by turning Halloween into an amazing date night. Recently, the Baby singer shared a glimpse of his love-filled moment with his wife from the spooky celebrations on his official Instagram handle. Talking about Justin, he shared a sweet photo with his wife Hailey, who looked super adorable in a bear costume. The photo also shows the Let Me Love You singer dressed in a yellow fleece jacket.
The lovely snaps
Justin is happy enough to share his lovey-dovey moments with Hailey Bieber, and this one is among the many instances. The new photo shows the two of them sharing a kiss. The post comes in light of the recent talks surrounding Justin Bieber's past romance with Selena Gomez. Recently, the latter released her documentary Me, Mind, and Me, after which there has been a renewed interest in the curious sections about Justin and Selena's past that was indirectly addressed in her film.