Halloween is right around the corner, and all Hollywood celebrities are gearing up to showcase their special costumes for the year. Like every year, the Kardashian-Jenner family is also back with major surprises to offer when it comes to wearing unique Halloween outfits. Recently, beauty mogul Kim Kardashian gave us a glimpse of the same on her Instagram handle.
View this post on Instagram
Kim's Halloween look
Talking about Kim Kardashian, she is known to ace her gala looks every single time she steps out for an event, and this time, it's no different! Recently, the diva took to Instagram and showed off her look as she painted herself blue to transform into none other than X-Men's Mystique herself! The beauty mogul dropped several selfie videos on her stories while showcasing her Halloween look. For the unversed, X-Men's Mystique is a shape-shifting mutant with flame-red hair and a blue body covered with scales. There is no denying that Kardashian aced her character.
Check out Kim Kardashian's Halloween look below.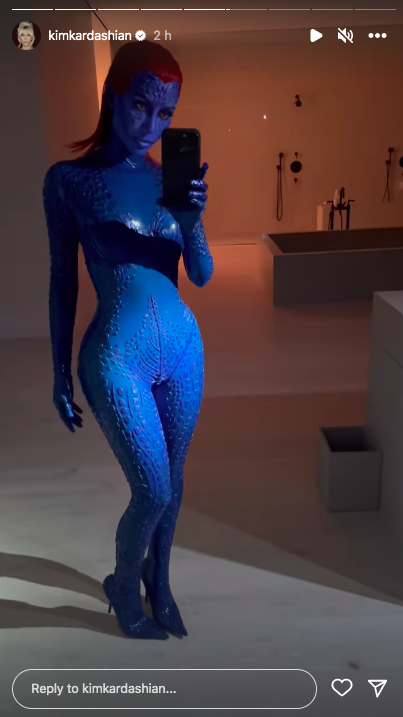 Kim's ex connect
According to a recent report published by Entertainment Tonight, although Kim Kardashian and Pete Davidson parted ways earlier in August, they are still in touch with each other. A source informed the publication, "Pete and Kim still keep in touch. It wasn't a bad fallout or breakup, so things are good between them and they've remained in contact." Curious gossipmongers and fans also speculated that Davidson sent flowers to his ex Kim for her 42nd birthday as she gave a glimpse of a bouquet of roses along with a Jasmin-scented candle on Instagram. Most fans believe that it is a reference to the Aladdin and Jasmine sketch the ex-couple performed on SNL before dating each other.
The ex-couple
Kim Kardashian and Pete Davidson were among the most talked-about couples of the year until their breakup happened a few months ago. The two of them were reportedly together for nine months before calling it quits which shocked their fans. Before the same, the ex-couple hit the headlines for multiple things, including Pete's tattoos dedicated to Kim, the NSFW revelations, and more. Even now, the two of them often remain in the news for one reason or another.
Kanye West
Kim Kardashian is currently in the news owing to the stints of her ex-husband, Ye. The latter recently made headlines for all the wrong reasons that, included getting restricted on Instagram and Twitter for his anti-semitic comments and getting called out for wearing a 'White Lives Matter' clothing to an event. A few recent reports also suggest that Ye is ready to settle his divorce with Kim and has taken legal steps for the same with a few new documents.