Kim Kardashian often grabs the headlines for one reason or the other. She is also embroiled in various controversies. But recently, The Kardashians star had quite a happy moment on social media. It so happened that Kim has been treating her fans to glimpses of her family vacation through captivating photographs and videos on her Instagram Story. During this lakeside getaway, Kim shared heartwarming moments spent with her children, offering a window into their fun-filled day at the lake.
Lake Adventure with the Kids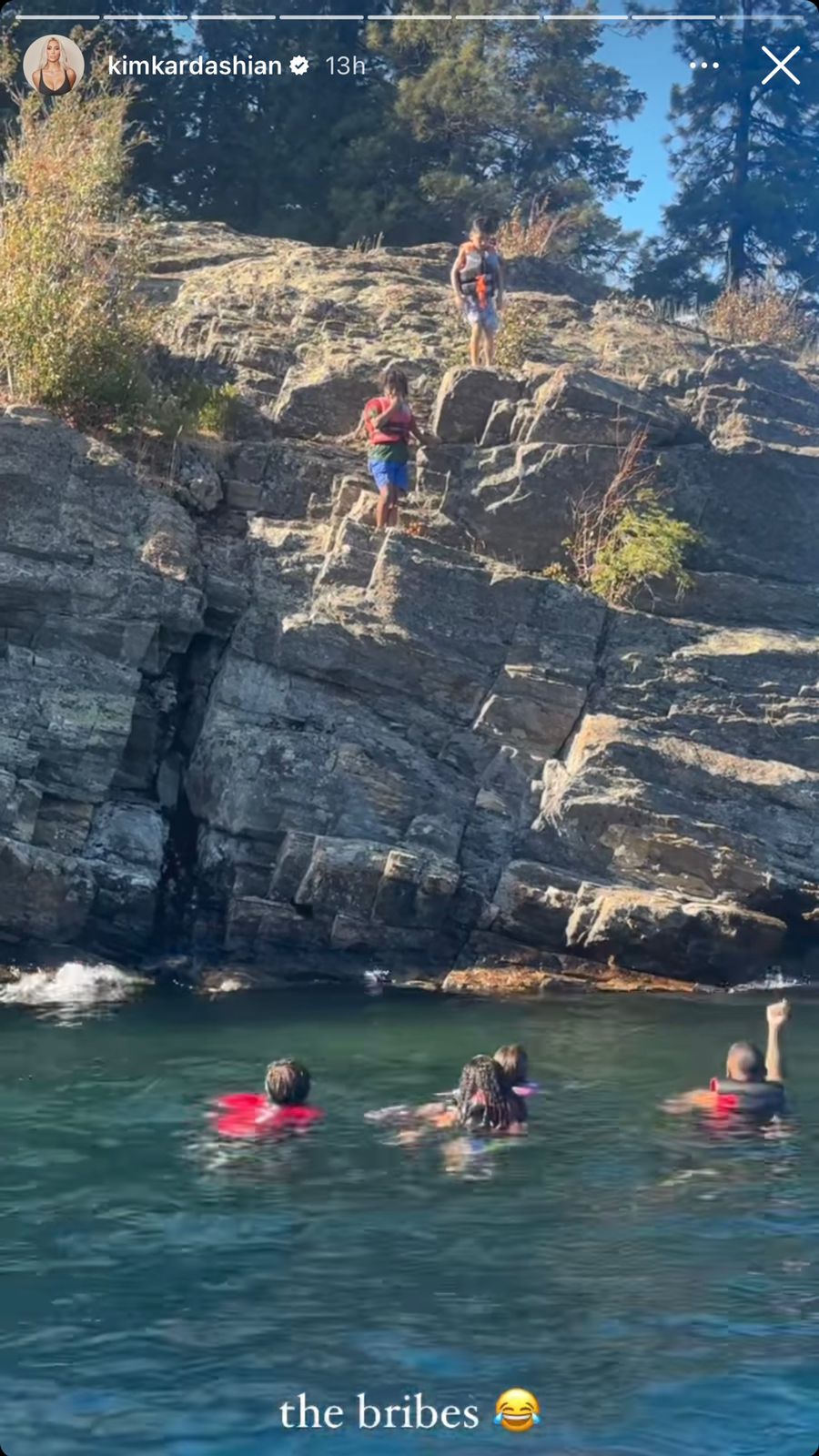 The Kardashian star showcased a series of snapshots and videos from a delightful day spent by the lake with her children. Among the highlights was a video capturing an endearing moment with her son, Saint West. The young adventurer hesitated as he stood on a rock, contemplating a leap into the water. The cheers of his elder sister, North West, and other companions already in the lake spurred him on. The shared excitement was palpable as the family cheered for Saint's brave jump.
A Touching Caption by Kim
Kim Kardashian's caption added a playful touch to the heartwarming video. In an attempt to coax Saint into taking the leap, someone humorously mentioned that "Ronaldo's in the water." Kim fittingly captioned the video with "The Bribes" accompanied by a Laughing, Crying Emoticon, perfectly encapsulating the blend of encouragement and amusement during the daring moment. Kim Kardashian's family consists of her four children with ex-boyfriend Kanye West: two daughters, North and Chicago, and two sons, Saint and Psalm. Her social media updates provided an insight into their close-knit family dynamics, painting a picture of a memorable lakeside outing filled with shared laughter and joy.
Injury and Recovery Update
Throughout her vacation, Kim Kardashian also shared updates on a recent shoulder injury. She posted a selfie reclining on an inflatable boat on the lake, subtly acknowledging her injury by mentioning her inability to partake in wake surfing due to her shoulder's condition.
Days later, Kim revealed more about her injury in an Instagram post, disclosing that she had broken her shoulder and torn a tendon. Despite the setback, her determination to stay active and fit remained unwavering.
A Star-Studded Getaway
Kim Kardashian's world tour also extended to soccer events. She and Tristan Thompson were spotted at Lionel Messi's debut match with the Florida soccer team. The celebrity duo enjoyed their time together, even attending a Japanese steakhouse in Miami founded by Bad Bunny and David Grutman.
Kim's dedication to her children's interests shone through as she expressed, "I will do anything for my babies." Her commitment was evident as she embarked on a soccer-centric journey, attending multiple games during the summer.