Kim Kardashian and her ex Kanye West's daughter North West recently dropped another hilarious TikTok video and the internet is amazed over the same. Talking about the pre-teen, she has sent her fans into a frenzy with her flawless moves as everyone witnessed her grooving to Michael Jackson's 1988 hit 'Man in the Mirror.'
The video
North took to her and her mom Kim's joint TikTok account and dropped a short clip of herself showing off her cool dancing and acting skills as she roamed around the lavish living space.
Check out a few screenshots from North's latest video below.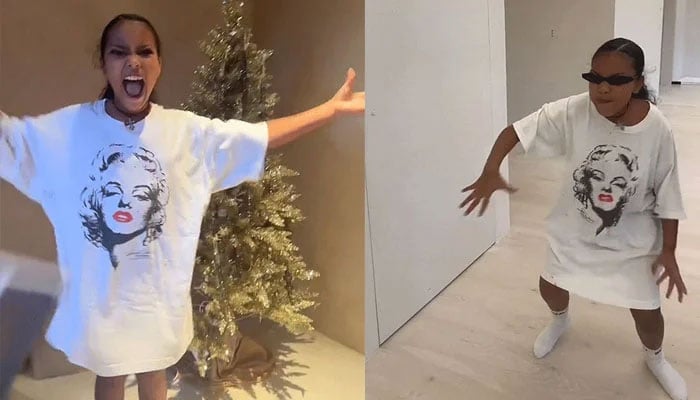 An MJ fan
Talking about North West, she is known to be a die-hard fan of Michael Jackson. The same was revealed by her mom Kim Kardashian in one of her Instagram stories in 2019. Here is what the reality star said back then, "North is a really big Michael Jackson fan and we knew she would love this." She further added on Christmas Eve in the same year, "We won this on an auction for Northie for Christmas."
Kim's day out
Kim Kardashian has left her fans once again by showing off a tiny bikini during a family beach day with none other than her kids themselves. However, the recent post also left a few fans wondering about one of her children, here's why. As for the Hulu star, she happily showed off her tiny frame with three of her four children splashing in the ocean with her in one of the latest social media posts.
In the latest snap shared by The Kardashians star, the fans could easily spot North, Saint, and Chicago. She also added a caption along with the post that reads "fulfilled." However, most of the fans were left with a burning question regarding the absence of one of Kim's kids, Psalm. It resulted in comments quickly filling up her Instagram feed from fans who noticed Psalm's absence from the beach day out.
Earlier News
View this post on Instagram

According to the latest reports, Kim Kardashian won a lawsuit against her and a few other celebrities over their earlier endorsement of the cryptocurrency platform named EthereumMax (EMAX). The same was reported on Tuesday after a judge went on to dismiss the case because of insufficient allegations.