Iconic American singer-songwriter Madonna, known as the "Queen of Pop," has been admitted to the hospital due to a serious bacterial infection. On June 24, 2023, Madonna developed the infection and was promptly taken to the hospital. Her manager, Guy Oseary, released an official statement confirming her admission to the ICU and stating that Madonna has been receiving medical care for several days. While the 64-year-old singer's health is improving, she remains under medical supervision. As a result, Madonna's highly anticipated Celebration tour has been postponed until further notice.
Manager's Statement on Madonna's Health
In an Instagram post, Madonna's long-time manager, Guy Oseary, shared an update on the singer's condition. He revealed that Madonna had been hospitalized due to a serious bacterial infection and assured fans that she is expected to make a full recovery. Oseary also announced that all of Madonna's commitments, including the Celebration tour, have been put on hold. Further details, including a new start date for the tour and rescheduled shows, will be provided in the future.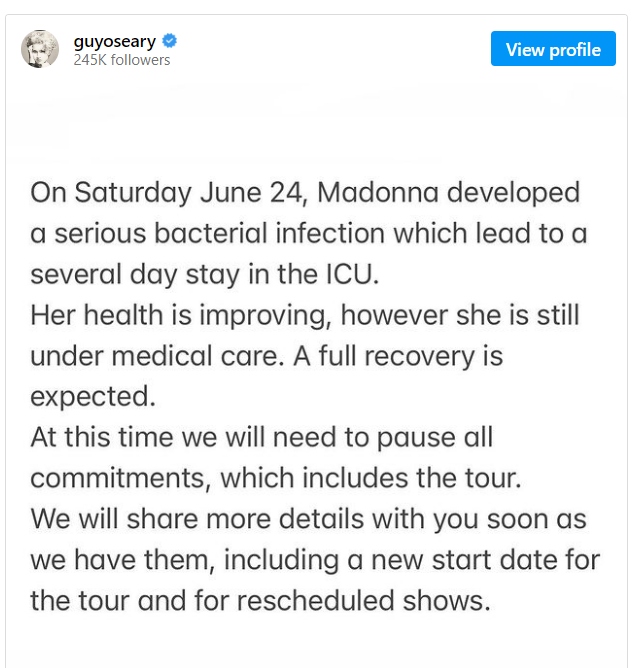 Madonna's Hospitalization Incident
Reports from Page Six indicate that Madonna was found unresponsive on June 24 before being rushed to the hospital. She was intubated for at least one night but eventually showed signs of improvement. It has been confirmed that Madonna is now out of the ICU and on the path to recovery. Throughout her ordeal, her daughter Lourdes Leon has been by her side, offering support and strength.
The Celebration Tour
Madonna had announced her Celebration tour earlier this year to commemorate her four-decade-long musical journey. The global tour was set to commence on July 15 in Vancouver, Canada, and span Europe until mid-October, with a return to North America in December. The tour was slated to conclude by the end of January 2024. However, due to Madonna's hospitalization and ongoing medical care, the tour has been postponed indefinitely. Fans await further updates on the rescheduling of the tour dates.