Kim Kardashian and her daughter North West's bond is something that has definitely set goals for many others out there. Lately, the duo has strengthened their mother-daughter bond while on vacation in Tokyo, Japan. Their trip showcases not only their shared experiences but also a deeper emotional connection. North also recently expressed her love and gratitude to her mother through a heartfelt handwritten letter.
A Glimpse of North's Letter
During their Tokyo getaway, Kim Kardashian shared a poignant moment with her Instagram followers by posting a snapshot of a portion of the letter from her 10-year-old daughter. The letter, written on the official stationery of their hotel in the Japanese capital, the Aman Tokyo, started with the words "Dear Mom," enclosed with a large heart. The touching sentiment continued with expressions of love and gratitude, "I love you so much" and "Thank you so much." Although Kim chose not to reveal the entire content of the letter, her caption, "Don't want to share it all but my heart," underlines the profound impact it had on her.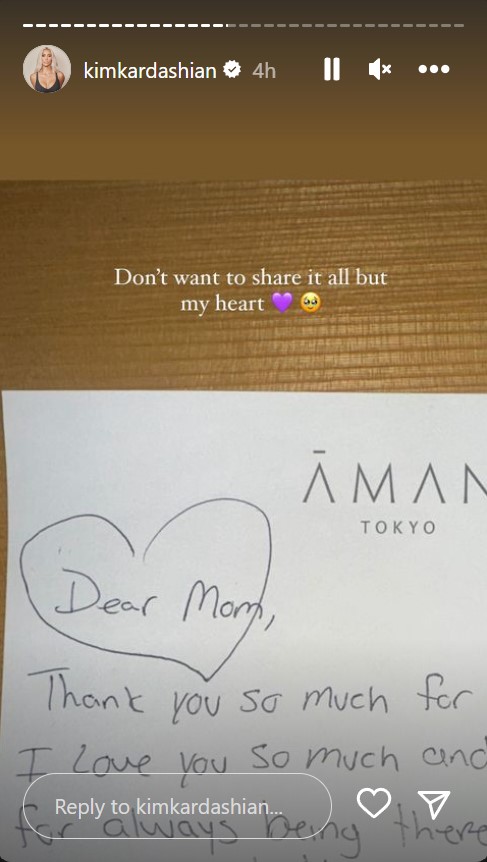 The Tokyo Adventures
Kim Kardashian and North West have been documenting their escapades in Tokyo through Instagram and TikTok. Their snapshots showcase the vibrancy of their vacation, including a playful visit to Universal Studios Japan, where they posed alongside beloved Hello Kitty characters. Matching vibrant headbands added a fun touch to their mother-daughter selfie.
North's Fashion Tribute to Dad
During their Tokyo excursion, North West playfully paid homage to her father's distinct early 2000s fashion sense. She sported an orange-and-blue striped polo shirt reminiscent of Kanye West's iconic appearance on MTV's TRL during that era. This creative nod to her father's style added a touch of nostalgia to their trip.
Kim Kardashian has been actively sharing snapshots of their memorable experiences in Tokyo. From indulging in delicious food to engaging in a Japanese skit with her friend Everleigh, North West's lively spirit shines through in every adventure they undertake. Their trip not only showcases their explorations but also reinforces the special bond between a mother and her fashion-forward daughter.