It was on August 6, 2022, that Label J, the agency associated with the K-pop group SUPER JUNIOR released an important notice on social media. According to the same, Eunhyuk, who is one of the members of SUPER JUNIOR, lost his father recently. As a result of the same, he could not leave for his next schedule for the SUPER JUNIOR WORLD TOUR – SUPER SHOW 9: ROAD in Manila."
The agency further noted that the funeral is going to be held privately in the presence of Eunhyuk's family members and friends. Moreover, they have also asked for some privacy for the artist to mourn. Apart from that, it was also revealed that further details about the group's concert would be shared later.
Full notice
Here is the full notice about Eunhyuk's father's demise as shared by Label J.
"Dear All, this is Label SJ.
It is with great sadness that we inform you of the passing of EUNHYUK's father.
As decided upon by the family, the funeral will be held privately with relatives and close acquaintances only.
Due to the sudden news, EUNHYUK was unable to depart for the [SUPER JUNIOR WORLD TOUR – SUPER SHOW 9: ROAD in MANILA] concert scheduled for today.
We are internally discussing matters on the concert and will provide additional guidance as soon as possible. We apologize for the sudden notice, and appreciate your understanding during this time.
For the safety of all, we politely decline any visits and flowers, and ask for your kind consideration to allow EUNHYUK plenty of privacy and time to mourn.
May he rest in peace."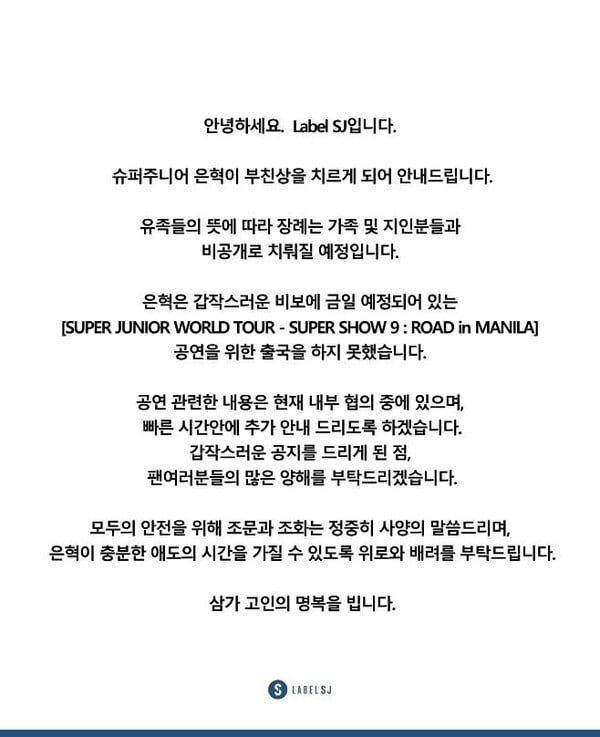 Fan condolences
The SUPER JUNIOR fans who call themselves ELFs took to social media to offer their condolences to Eunhyuk and shared some warm words of assurance for the artist. A few fans have also changed their profile pictures to the artist's image and shared supportive messages for the K-pop idol in these tough times.