Irene Gupta of Delhi grows more than 40 fruits and vegetables in useless containers at home.
In 2014, when Irene Gupta converted her house into an apartment, she decided to build a small garden on one side of the roof. But this small garden will one day be turned into an organic farm, which She did not even imagine.
She says, "Earlier there was quite a lot of space around our old house, where we planted different kinds of plants. My mother is very fond of gardening. So I did not want the trees to get away from the plants due to lack of space. "
She started by planting some seasonal flowers such as Sandhya Malati and Dahlia in terracotta pots. Within a few weeks, flowers started blooming in his garden. Previously, there were only a few terracotta pots on their terrace. At the same time, today, many containers like plastic crates, thermocol cans, paint buckets, water tanks are filled with more than 40 types of vegetables and fruits on their roofs.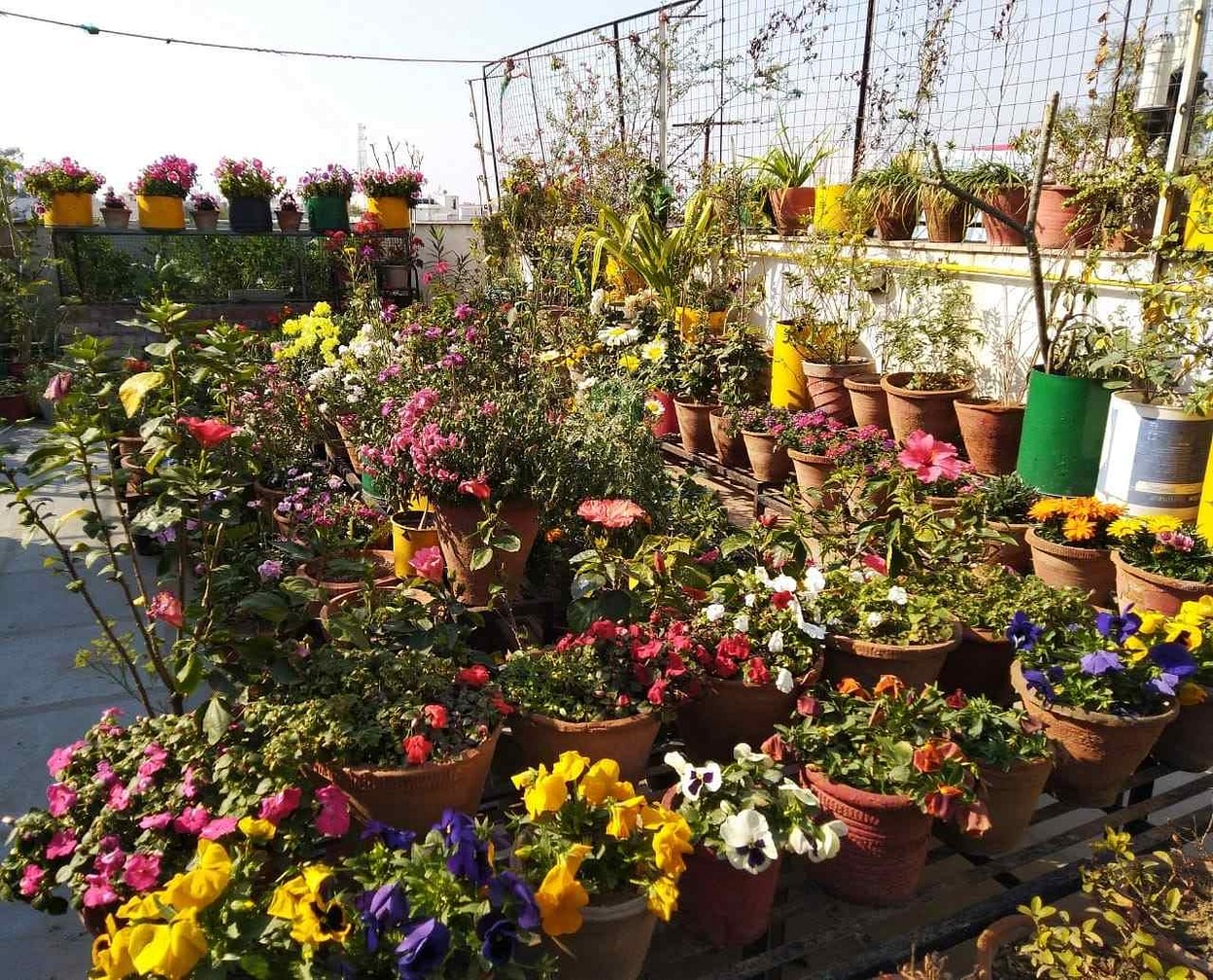 Gardening learned from blogs and TV shows
In her new home, she lives with her mother and a helper. The roof of this house is 2000 square feet. Initially, She planted 10 types of plants on his roof, including aloe vera, ponytail palm, money plant and some seasonal flowers, such as Sandhya Malati, Chrysanthemum etc.
She says, "These plants were planted by my mother in our old house. We put them in terracotta pots with organic potting mixes and put them on the roof. Within a few months, flowers also started growing in them. I wanted to plant more plants in my garden. But, I was also worried about the fact that the roof would not be weakened by the weight of these plants. "
Keeping the quality of the plants intact, he began to learn about the low weight pots with the help of the internet.
Initially, She got to read many gardening blogs from countries like America and Australia. She found that most of the information and tips in foreign blogs were based on his climate and circumstances. However, Irene also read some Indian blogs. She also regularly watched the Malayali television show 'Kisan Kerala' for more information on gardening. Although she did not understand this language, she kept trying to get accurate information about it. From this show, She learned about growing plants and composting in cocopeat and coconut husk etc.
Eventually, She found a solution to reduce the load of pots on his roof. In many American blogs, She noticed that they grow vegetables and fruits in wooden crates or crates. Irene thought of trying this method out. She says, "I did not find wooden crates at home, but I did this experiment on a plastic crate that holds fruits and vegetables." I used old curtains to close these crate holes and not let the soil fall out. I planted cauliflower plants in them, which resulted in quite good results.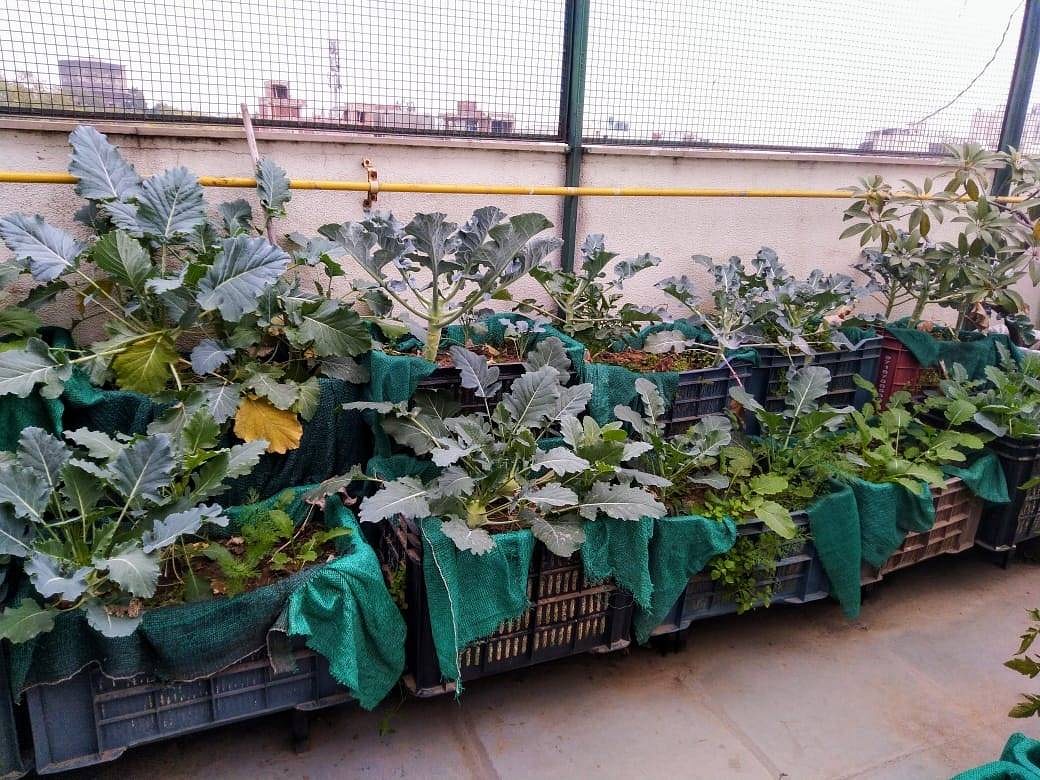 Plants to grow to waste containers in use  
Subsequently, Irene bought more containers. In these, She started growing some vegetables such as tomato, brinjal, cabbage, gourd and fruits like guava, pineapple, lemon and strawberry. She says she grows vegetables based on the season.
She uses waste cartons and plastic crates at home to grow green leafy plants such as peppermint, coriander, basil, curry leaves, Giloy etc. She also recycled some thermocol cans, printer ink drums and some old sacks to grow the plant.
To make large beds for vegetables, he recycled a water tank lying in the society. She cut this 500-litre tank into two parts. Then, by sealing the two floors, filling them with potting mixes. In this, She grew grapes and vegetables grown under the soil.
She explains, "In addition, I have also made a high bed on the roof to grow vegetables like cabbage in a big place."
To nourish the plants, she makes fertilizers from the kitchen from the wet waste such as tea leaves, onion peels, eggshells etc. after use. Also, she regularly uses vermicompost and cow dung.
She has converted 1100 sq ft of his roof into a garden. She says that her family supplies vegetables from this garden. Last summer, 40 kilos of luffa was grown in his garden. Apart from this, she also grows gourd, bitter gourd, chichinda, cucumber, Barbati and guarflies etc.
In winter, she grows a variety of greens, from broccoli and cabbage to turnips and carrots. Many ornamental plants are also planted on his plantation. Irene also specializes in growing different types of lilies. You will find flowers in their garden ranging from indigenous lilies to exotic varieties such as Asian lilies, bougainvillaea, jasmine, savanna, Gujral, Passionflower and Morning Glory.
Irene says that when she stands on her roof, looking at the empty roofs of other houses, she feels very sad. They believe that these empty roofs should be used for gardening.
Finally, she says, "I know that many people want to build a garden in the roof, but they also fear seepage with the roof being weak." At the same time, some people consider the maintenance of the garden quite expensive. " She believes that people do not have the right gardening information.
Also Read: Succulents: grow easily, yet they need some care, know tips here
Also Read: Lucknow Engineer turned into a Civil Engineer, earns Rs 70000 per month
Also Read: Taking advantage of government schemes, Lakhpati becomes Odisha farmer